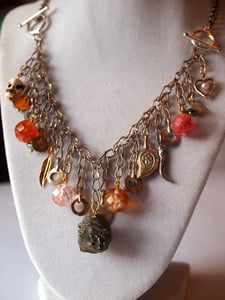 $

125.00
This is not just any necklace! The Pyrite Delight from the 3-in-1 series can be worn as a stunning neckpiece, a long belly-grazing necklace AND a charm bracelet.
Dripping with faceted quartz beads in shades of rose, vintage charms, antique chains, turquoise bits and one big chunk of pyrite in the centre to steal the show.
Simply undo the sterling silver plated toggle clasps on each end of the removable chain to wear as a charm bracelet and interchange with long or short chain extensions for necklaces. Chain extensions can also be worn on their own as necklaces or bracelets or add your own pendants to them!
Includes one chain extension only, please specify if you would like the short or long chain in brass or polished gun metal colour. You can also order both for more wearable options! (+ $12.00 for both chains, please send a message)
Materials: Quartz, gold plate, silver plate, bone, turquoise, pyrite, mixed metal
Length: 18 cm / 7" (bracelet)
25 cm / 20" (short necklace)
98 cm / 38.5 " (long necklace)