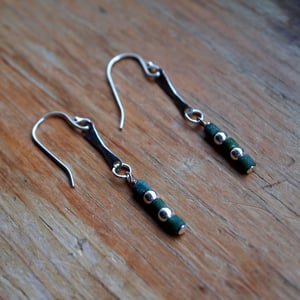 $

25.00
Strong and beautiful - 3 small unpolished malachite beads and 2 round silver beads hang off a hand-hammered sterling silver bone.
Malachite is a dark green semi-precious stone long used by the ancient Greeks and Egyptians for healing and protection from the evil eye. Malachite is associated with the astrological sign of Taurus, the spring and rebirth.
>one of a kind<
>>hand made with love and care<<
using new, vintage, and found materials
>Sterling Silver ear hooks.
>All earrings come with rubber stoppers.
>Length: 4cm (1.5")
>Materials: sterling silver, malachite